PVC
Benefits Of Installing A Mule-Hide PVC Roofing System
When it comes to commercial roofing, no one offers quite the same level of quality as Mule-Hide. Their PVC system boasts numerous benefits that help them outshine many other PVC systems on the market. Here are just a few of those benefits: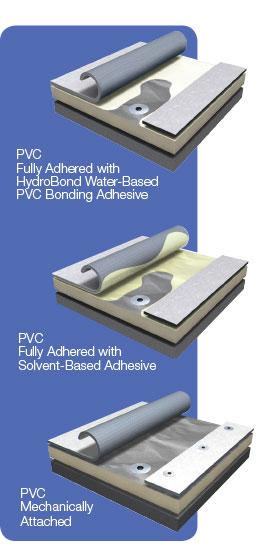 Energy Efficiency
As a commercial property owner, energy efficiency is of top priority to you. Whether you are using the building you own or are renting it out, the superior reflectivity of our white PVC — it reflects up to 78% of the sun's rays! — reduces heat build up under the membrane, lowering your cooling costs.
Industry-Leading Life Span
Mule-Hide's PVC roofs offer excellent fire, airborne bacteria, UV, and industrial pollutant resistance. This reinforced membrane is designed to remain stable over the long haul. It's truly a feat of engineering.
Great Degree Of Flexibility
One of the greatest dangers to commercial roofs is splitting or cracking due to extreme hot and cold temperatures. With Mule-Hide's PVC system, your roof's membrane will stay flexible on freezing winter nights as well as scorching summer days.
Heat-Welded Seam Strength
The superior seam strength of Mule-Hide's PVC roofing materials gives greater wind uplift resistance than competitors. This is due to Mule-Hide's heat-welding technique used to fuse membrane seams, creating a watertight seal.
Call Cousins Restoration In Schenectady
If you own a commercial property in Schenectady or the surrounding area that is in desperate need of a new commercial roof — or it's simply been a while since your last inspection — Cousins Restoration is here for you.
To get started with a free estimate, simply contact us online. We'll be happy to talk through our commercial roofing options to ensure you get the best possible roof for the intended use of your building.